Get ready for the best (partial) bedroom tour you have ever seen!!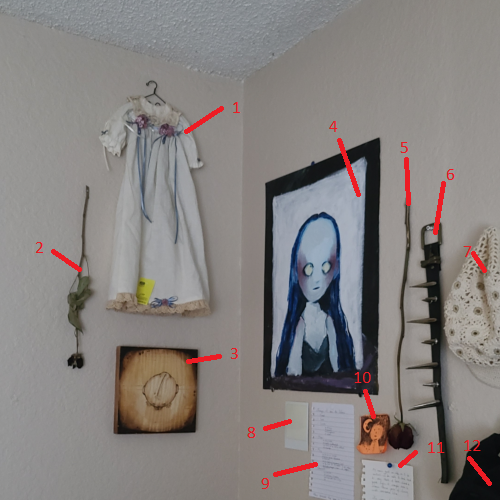 1. A small dress that I got from a local thrift (?) store. I love it. I think it is so beautiful and I adore adore adore it. I wanted to get it for Ms. Mittens but I didn't do it, and instead hung it on my wall because I find it to be beautiful. No regerts.
2. A dried dead rose whose bud fell off. I still keep it hung because I think it looks nice :>)
3. A piece that I created for AP Studio Art in 2021, and it represents paranoia. I like it a lot, it was one of my first/only serious pieces in wood/woodburning, and I really like it! It's almost mixed media because it has watercolor to accent depth and the like. I still like it.
4. A painting on top of a failed self portrait. I find this lady to be more beautiful, and was painted a year or so ago. She was mostly inspired by my "Mona Lisa" on my neocities bits page (G.E.S), as well as MatieresFecales on Instagram. I love their work.
5. Another dead rose
6. A spiked collar that I made from a thrifted belt and amazon spikes. Highly recommend trying for yourself! So fun.
7. A VERY CUTE granny crocheted cap that I got from a garage sale! So awesome (and cheap!).
8. A blank test-polaroid from my roomate
9. A list of things that I can do alone
10. A little hallows eve sketch I made at work
11. A paper stating the following:
"My main goal in life is to be content. To be able to look back & say that I have lived a good life, & maybe even to share these joys of living with someone else. For now, I will log & diary & blog events that occur, not for a widespread unfathomable audience. For myself. That;s who I habe to face in the mirror everyday. Not someone else, not for some higher power. Nobody else has to live with & love me. But I do. So why not make my limited time alive count> 70-100 years isn't that long, after all."
12. A Groot (?) cap that I got from disney world. It's mid. I never watched the avengers (except for maybe half of the first movie). I wore that thing dry during the trip, though!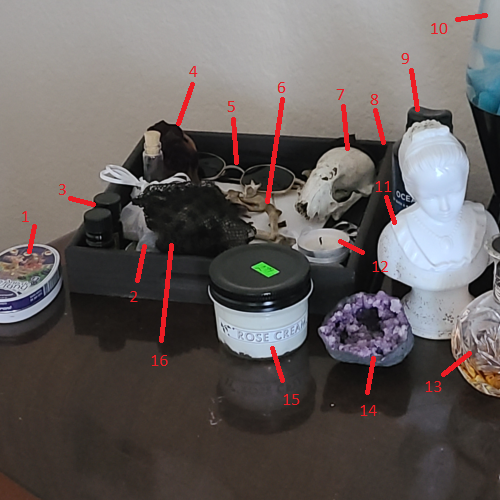 1. les Anis de Flavigny Blackcurrent mints that I got from a local Swedish store. I also have the flavors anis, as well as rose. The rose is my favorite. it is very delicate and tastes exactly how rose should taste.
2. A baggie containing broken rosin, coins, and a shell. It's just a random bag that I put these things in for no particular reason, but I cannot bring myself to separate them. I think they look nice, anyways.
3. Black Pheonix Alchemy Lab Perfumes. These are Twilight and Cathedral.
4. Said fallen rose bud
5. Old man sunglasses that I got from the same garage sale as the granny cap! Very awesome.
6. Bones from a possum that I meant to post about but never did. Perhaps I will make another PLog for it and my creations with them.
7. A skull baefy FOUND FOR ME at a creek. Best gift ever. ever. Hands down. I love it so much.
8. A wooden container that holds items 3-7, as well as 12 and 16. I painted it because the original color was ugly.
9. A cologne
10. A lava lamp ALSO given to me by someone cool. Soooooo awesome. Thank you so very much, even though you will probably not see this LOL.
11. A lady in waiting!! Waiting to be used, she is actually a perfume bottle! You can see my collection and an explanation of each on my wardrobe page found in G.E.S
12. tea candles, they are one of my favorite forms of light
13. Another perfume
14. A geode my dad got for me as a kid, it's one of the few childhood items I have. It's mid, I don't mind it.
15. Rose cream I JUST got from the thrift store. I don't really know where to put it, but I think I'll use it every now and then on my cuticles or knees something.
16. Lace gloves I got from an antique store. They are brown and fingerless gloves, and I never wear them because they are shredding apart. It is sad, but they are still cute!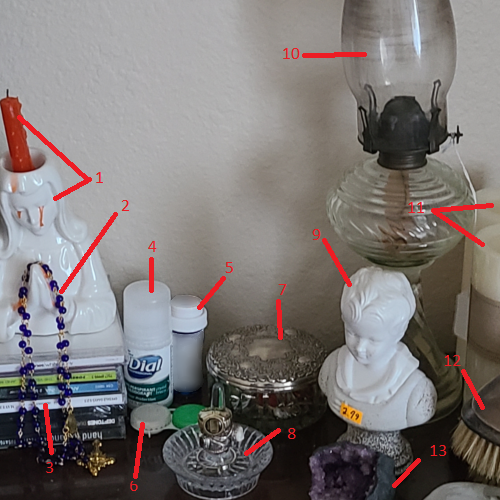 1. A candleholder that Poppy got me! I wrote about this in one of my previous PLogs, but I am now able to hold her in my room, and she does not creep me out! I think the trio of the perfume holder boy, girl, and nun are excellent. I like the ominous figures in my room. They are like the weeping angels from Dr. Who and it feels oddly protective. I feel safe.
2. A rosary that I recently got! Joining the cross to the loop is a pendant (?) That states, "Saint Michael pray for us!" with his photo on the front. I am not personally religious, but I have an odd fixation on catholicism. There are so many rules, and it is interesting to learn about. I think religious trauma plays into the morbid curiosity, but I don't mind. Learning about all the prayers that go into a rosary are interesting! And it is cool to have one that is accurate and can actually be used for such if needed. It makes a really nice "clink click clink" noise when you rattle it.
3. CD'S! In Order from top to bottom: White Pony - Deftones, The Very Best... And Beyond - Foreigner, 2 Song Sampler - Annetenna, Adrenaline - Deftones, Lateralus - Tool, Diamond Eyes - Deftones, A Perfect Way to Say Goodbye - Hand to Hand. This last album (as well as the sampler and others) I got in order to see if I liked the music or not, and I really do! Highly recommend, it's still in my CD Player lolol.
4. Deoderant I got at the Psych Ward and still enjoy! It's kind of broken and leaks sometimes, but it still smells good.
5. SSRI's
6. Eye contact holder
7. A little jewelry trinket box I got from an old local thrift/antique store. It is really nice! Has a mirror in the top.
8. A ring holder that holds a few rings on it
9. THE BROTHER!!! Got this dude (another perfume holder/bottle) separately from the girl, believe it or not. I enjoy that they match :>)
10. An oil lamp :>)
11. Candles
12. Hair brush! very cool and fun
13. The other half to the geode found in the other photo. Still mid.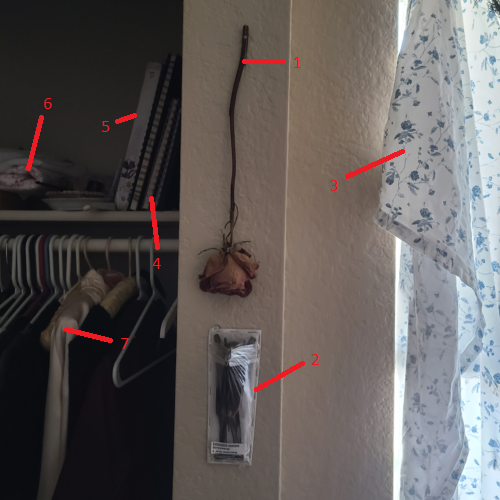 1. Another rose!!!! This one is really beautiful, I think.
2. A bat that my dad got me for christmas of 2021! I find it really lovely, and I think it fits really nicely with the rose. So gorg.
3. My bedsheets (don't worry, not the fitted ones, just the second layer. I still have sheets on my bed) that are currently being used as curtains. I like this method because it ties the room together.
4. Various spiral notebooks including diaries, sketchbooks, notepads, therapy books, etc.
5. My intensive outpatient program notes/folder
6. Fabric! I am currently in the process of making a teddy bear.
7. My clothing

I liked this method of room tour, because it was fun to list out and notice every item I have, AND I really like the ways that the photo cards of my room look. One could maybe even say "webcore" for the mix of media :>) I like when mspaint shape tools are used on normal photos. So fun to look at!
Written April 7th, 2022.