Your rainbow is strongly shaded
indigo and brown.
What is says about you: You are a deep thinking person. You appreciate cities, technology, and other great things people have created. You feel closer to people when you understand their imperfections. Friends count on you for being honest and insightful.
Find the colors of your rainbow at spacefem.com.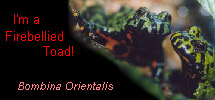 These colorful toads are very active and fun for beginner pet owners. They enjoy spending their day swimming and singing with other frogs of their species and become more active when not alone. Weird fact: Firebellied toads cannot extend their tongues like other toads or frogs. To feed, they must leap forward and catch their prey with their mouths. After they have grabbed a cricket or worm with their mouth, they usually use their fore-arms to help stuff food the rest of the way in. Then they squish their eyeballs down in their heads to push the food into their throat.